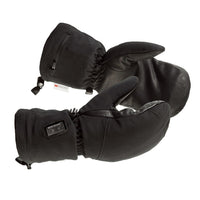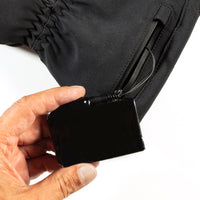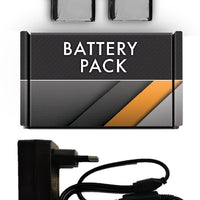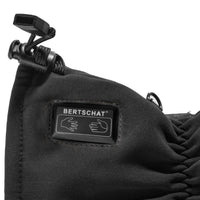 Heated Mittens PRO - Dual Heating | USB
Unique mittens: the BERTSCHAT® Heated Mittens PRO – Dual Heating. The only mittens with heating throughout the mitten. The bottom, top and finger area are all fully heated. These are the warmest mittens available. These heated mittens allow you to resist the most extreme weather conditions, which means cold hands will be a thing of the past.
Temperature regulation
The temperature of the mittens can be adjusted easily. You can choose to activate both heating areas, or only the bottom or top. In addition, the mittens have three different heat settings that can be easily selected by pushing the button. This means you can always select a suitable temperature for all weather conditions.
Powerful batteries
The mittens will consume a lot of energy if both heating areas are activated in the highest setting. That is why the mittens come with the most powerful batteries that are available. You can choose between the 2,600, 3,000 and 3,800 mAh battery. The 3,800 mAh has 50% more power, which means it can heat for a longer period of time.
Would you like to heat both heating areas at the highest setting for a long period of time? In that case, we recommend the 3,800 mAh battery or an additional battery pack. The batteries can be easily charged with the provided USB charger. This means you can also charge them with a power bank when you are on the move.
Insulation value
In addition to the powerful batteries, the mittens have a high insulation value. This means your hands will not only become warm, but will also remain warm. 3M Thinsulate helps to keep the heat inside.
Features:
2 rechargeable batteries (2,600, 3,000 or 3,800 mAh) and a charger included
Two large, unique heating elements around the entire hand, including the fingertips - Dual Heating
Wind- & waterproof layer
3M Thinsulate insulation
Hipora® waterproof and breathable membrane.
Touch screen: You can use a telephone/tablet while wearing the mittens.
USB rechargeable
Waterproof zip with lockable compartment for the batteries.
Up to 8 hours of heating on a single charge
Unisex model
Which size do I need?
The right size for your gloves can be measured easily. Spread your fingers as shown on the picture and measure the circumference.
Size M: Most chosen by women
Size L: Most chosen by men
| | | |
| --- | --- | --- |
| Size: | Middle Finger Length (CM) | Circumference (CM) |
| XS | 7.5 | 15 - 17.5 |
| S | 8 | 17.5 - 20 |
| M | 8.5 | 20 - 22.5 |
| L | 9 | 22.5 - 25 |
| XL | 9.5 | 25 - 27.5 |
| XXL | 10 | 27.5 - 30 |
| XXXL | 11 | 30 - 32.5 |