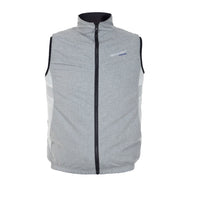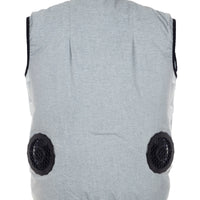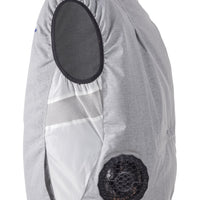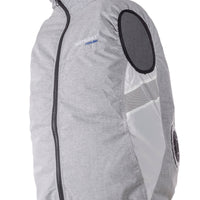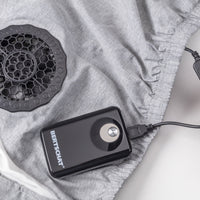 The BERTSCHAT® cooling vest provides cooling using two electric fans on the back just above the hip. These produce a chilling sensation by allowing airflow inside the vest, making sure the body stays cool even on the hottest of days.
How it works:
The required electricity to power both electric fans is provided by the included powerbank. Setting the desired fan speed at one of the three levels (low, medium, or high) is easily done by pressing the remote integrated in the power cable. Subsequently the vest will be able to cool for up to 4 hours on the lowest setting. After this period simply recharge or connect a full powerbank to continue using the cooling function.
Suitable for a variety of uses
The cooling vest is suitable for a wide variety of applications including hiking, cycling, fishing, or even more professional purposes such as warehouse-, factory- or construction works. The cooling allows to maintain the level of efficacy and productivity you're used to but is also equally suitable for leisure activities.
What size do I need?
The vests are available in standard European sizes: we therefore advise to choose your usual size.
Specifications:
1x cooling vest with two integrated cooling fans

Light and breathable, made from 100 % polyester
Unisex model, suitable for men and women.
Washable by hand after removal of ventilators (details in user manual)

1x powerbank 10.000 mAh, 1- and 2,1-amp output.
Use time at separate settings: (low: 4 hours, medium: 3 hours, high: 2 hours).