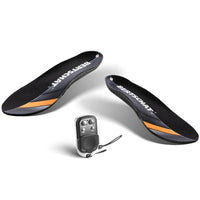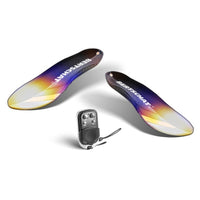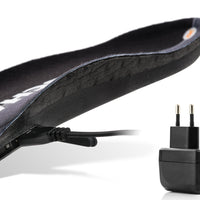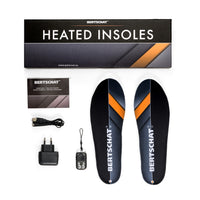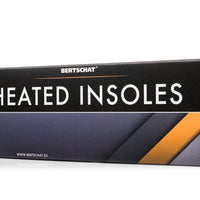 Always suffer from cold feet? Search no further! The new BERTSCHAT® electrically heated soles with built-in batteries offer the solution! No hassle with cables! Simply place the sole in your shoe, select the correct position (I, II, III) with the remote control and your feet will be wonderfully warm.
Ergonomic Supportive Design:
BERTSCHAT® heated soles are specially designed for the ultimate walking comfort. It design is designed by specialists and foot therapists and offers optimal support and maximum cushioning. The battery and mechanism have been professionally concealed so that you do not feel them.
Which size should I select?
You can select your own size. The combination sizes of BERTSCHAT® heated insoles make it possible to trim them as desired.
How long will the soles warm my feet?
BERTSCHAT® heated insoles are equipped with the strongest possible battery, which is technically possible. How long it heated depends on several factors. There are sensors in the sole that monitor the heat. For example, when you wear well-insulated shoes, the heating requires less energy to reach a certain temperature than when you wear these soles in sports shoes where the heat dissipates quickly. With good heating and a strong battery, BERTSCHAT® has managed to develop a sole that can heat your feet for up to 12 hours on a single battery charge. If the batteries are empty, you can recharge them with the supplied charger.
Remote control:
BERTSCHAT® Heated Insoles are supplied including a remote control. With this remote control you can choose the desired temperature or switch the soles on / off.
How do I charge the soles?
BERTSCHAT® heated soles can be charged with a universal USB connection. This means that you can charge the soles at any USB connection, but also on the go with a portable power bank, for example.
Characteristics:
Suitable for all types of shoes, hiking boots, ski boots, snow boots, work shoes, riding boots, slippers, boots, cycling shoes etc.
Battery life: Up to 12 hours of heating on a single charge!
Extremely flat sole that fits in every shoe.
No cables, completely wireless.
Double integrated powerful rechargeable battery. 2,200 mAh 3.7V
Supportive comfort design sole.
Built-in temperature sensor for an optimized foot climate and maximum
efficiency.
Unisex model: for both women and men.